I went to a small primary school in a tiny farming community in country Victoria. Before the bell would ring after recess and lunch, top 40 music would blare out over the school yard. You knew it was time to pack up your lunch box and head back to class. Nine times out of ten, I was still finishing off my Iced Vovos.
According to five year old me, these were the best biscuits in living history. Marshmallow, raspberry jam and PINK! I'd take forever to eat each component separately, torturing the poor healthy kids with their apples and oranges. Those fools with their glowing skin and long attention spans. They didn't know what they were missing.
I'd like to say my biscuit tastes have matured dramatically since my Iced Vovo days. But really, where can they go from there? Tic Tocs or Tim Tams or Teddy Bear Biscuits? The only way I can say I've advanced in my biscuit appreciation is when I serve a wedge of ripe brie on top.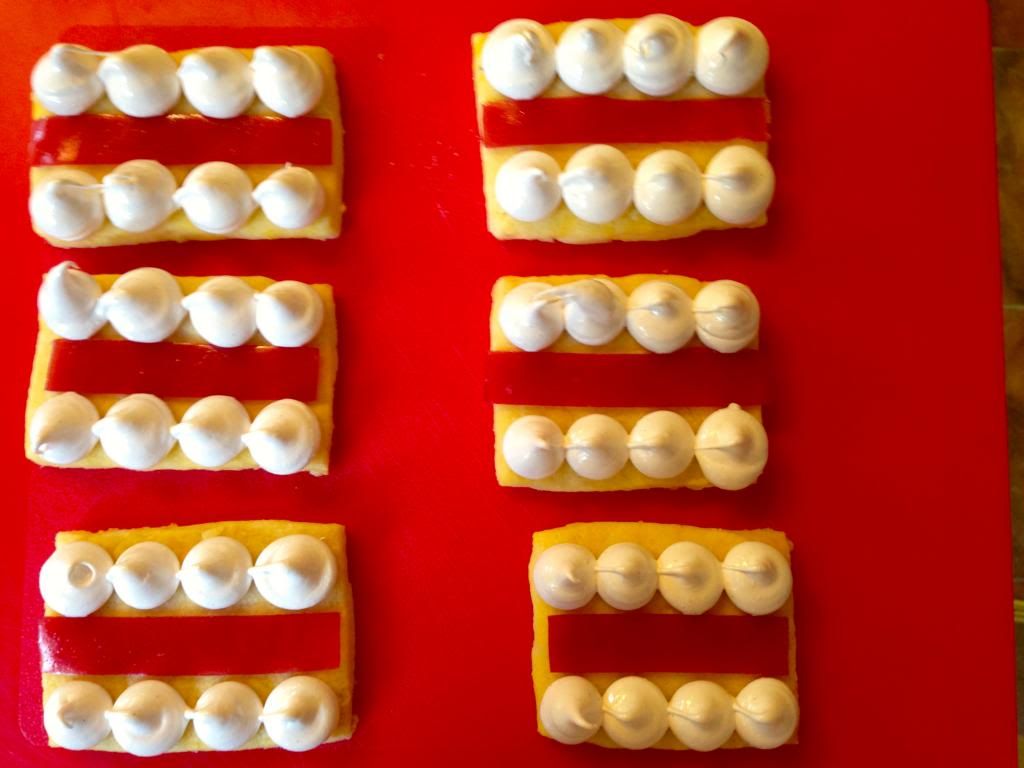 The biscuit here is a pate sablee (or sable biscuit). They're meant to be similar in texture to sand, which gives you an idea of how delicate they are (and not at all like a packet of salt and vinegar chips left lying about at the beach). It seems like a shedload of butter (which it is) but go with it, let the buttery love wash over you - you won't regret it. The marshmallow is a simple recipe (similar to the passionfruit treats from last year). And the raspberry jelly couldn't be easier - the five year old me could make it (albeit with several burns and fewer eyelashes at the end of the day).
A mature Iced Vovo if one ever existed.
Ingredients
Sable
400g plain flour
100g cornflour
400g butter
200g icing sugar
4 egg yolks
pinch salt
Preheat the oven to 160 degrees celsius. Sift the flour and cornflour together into a bowl. Rub in the butter and sugar with your fingertips (using the palms of your hand will be too hot and melt the butter). Rub it in until all large lumps of butter are gone. Add the yolks and salt and mix together until it resembles breadcrumbs. Remember - this is a short biscuit, so don't overwork the flour.
Bring the dough together into a flat rectangle and rest for a couple of hours. Roll out to 1cm thick and cut into rectangles 4cm x 6cm. Place the biscuits onto a tin lined with baking paper. They may crumble slightly, but it's OK, just quickly shape them back together.
Bake for 10 minutes or until just golden. They may have spread a little after baking, but you can reshape them with a knife or spatula. Cool on the tray.
Vanilla marshmallow
1/4 cup of warm water
1 tablespoons of gelatine
170g caster sugar
110g liquid glucose
1/4 cup of water
1/4 teaspoon of vanilla paste
Dissolve the gelatine in the warm water.
Over low heat, mix the sugar, glucose and water, stirring until the sugar dissolves. Bring to the boil, stop stirring and cook until the sugar reaches 115 degrees celsius.
Place the gelatine mixture in the bowl of an electric mixer and whisk on high speed. Slowly pour the sugar mixture in with the vanilla. Beat on high for eight to ten minutes.
Raspberry jelly
200g fresh raspberries
1/4 cup caster sugar
1/4 cup water
2 tsp gelatine
Combine the gelatine with 2 tbsp water.
Blend the raspberries in a food processor until smooth. Put through a fine sieve to remove all the seeds.
Over a low heat, combine the caster sugar and water in a saucepan. Stir until sugar is dissolved and then boil for one minute. Turn off the heat and add the softened gelatine and stir to dissolve. Add the raspberry puree and stir to combine.
Pour the mixture into a flat tray and refrigerate to set.
Assembly
Cut strips of the raspberry jelly 1cm wide x length of your sable biscuits. Place down the centre of the biscuits.
Pipe the marshmallow down each side of the sable. Top with toasted coconut.
We enjoyed these with a cup of plunger coffee (me, from
St Ali North
) and Earl Grey tea (Nadia, from David Jones Food Hall). So good - a regular grown-ups tea party.