Have you noticed how baking is so much easier when there's two of you? I have my sous chef, Nadia, back in Melbourne. Granted, she mostly took photos today but it's the company that counts, right? So basically everything is alright in this neck of the woods. Fun times, loads of baking and rapping til my heart's content. I just need to kick this lurgy to get my vocal chords back in peak rhyming condition and all will be right in the world.
Nadia made the suggestion a few weeks back that we enjoy some lamb for Australia Day. She was thinking chops but my mind was heading up the butterflied shoulder path. I was not looking forward to slicing and dicing the lamb and so was over the moon to find a butterflied piece ready to go in Skinner and Hackett (appealing to the lazy cook in me). The butcher gave us some handy tips (that I'll share with you below) and even offered us some rosemary to pair with the lamb.
Alongside, we served a typically Aussie dish: potatoes pan haggerty. Please don't try to convince me this dish originates in Northumberland. My
Australian
sister Sarah ate it the other day, so I'm claiming it as ours like Russell Crowe and Mel Gibson. Actually, I'd trade those two for these potatoes but I'm pretty sure the UK wouldn't see it as a square deal. Her partner James whipped them up and I've been mulling them over in my head ever since. In order to light the oven, I just needed a single day where you couldn't fry an egg on the bonnet of your car. Today was that day.
The lamb is from
Poon Boon
in the Mallee (my old stomping grounds). Our kind butcher filled us in on the history. They spend their happy days munching on saltbush which gives them a pretty tasty edge. Poon Boon hang out at farmers markets too, so if you can't make it to Skinner and Hackett you should be able to pick them up one early morning on the weekend.
My one recommendation when cooking this recipe: some Jay-Z up loud and a fine lady to pass you the phillips head when you need it.
Ingredients
1kg butterflied lamb shoulder
zest of 1 lemon
2 cloves garlic, sliced
3 sprigs rosemary
1/2 tsp salt
1/2 tsp pepper
1/2 cup olive oil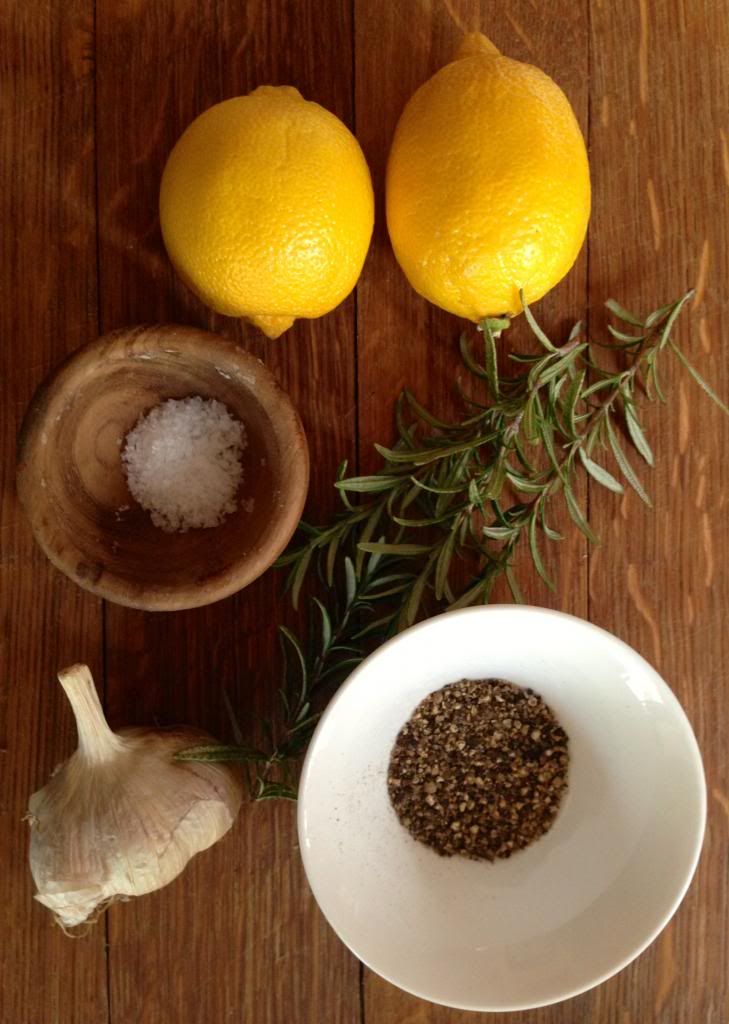 Potatoes pan haggerty
5 desiree potatoes
40g butter
4 rashers streaky bacon (or 2 of middle bacon)
1 onion
salt and pepper
100g cheddar cheese
1 cup milk
1 bunch broccolini
juice 1 lemon
olive oil
salt and pepper
Score the lamb (not the fatty side) in a diamond shape. Combine the zest, garlic, rosemary, salt, pepper and olive oil in a bowl. Massage into the lamb and leave to marinate for a few hours.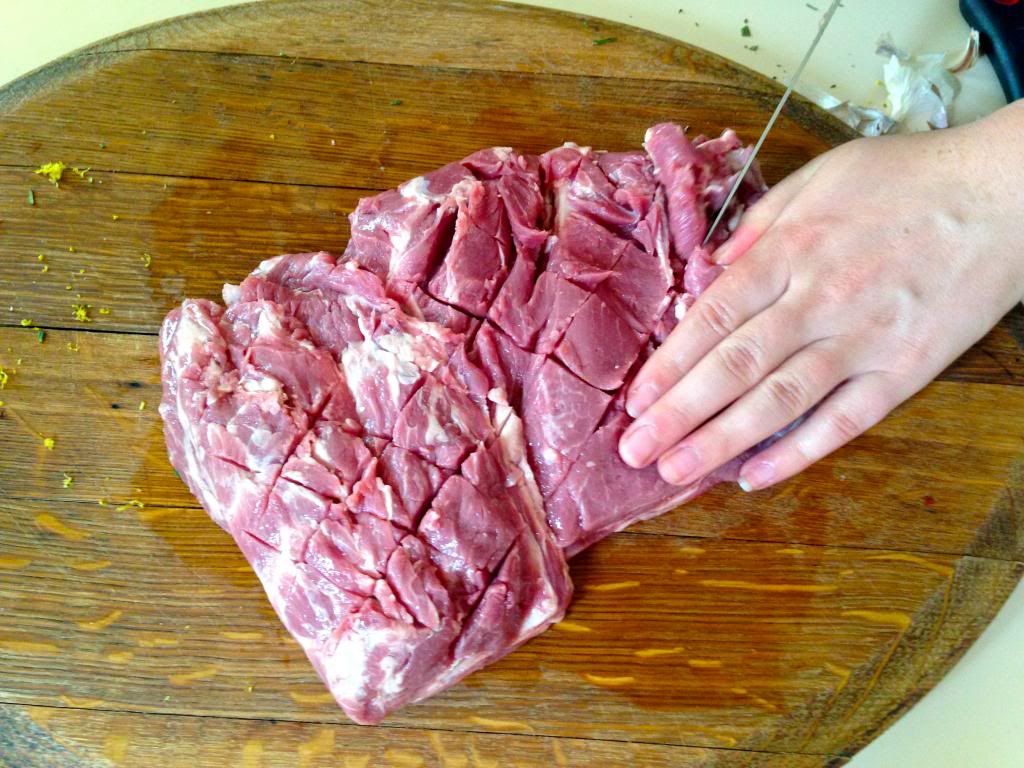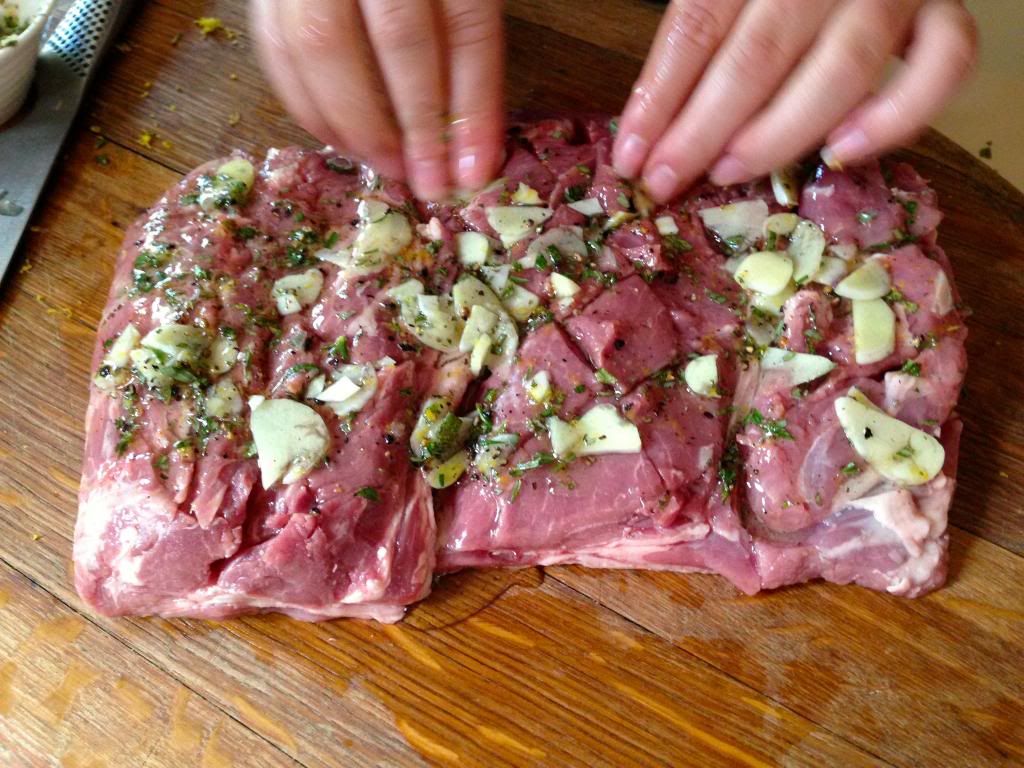 To make the potatoes pan haggerty, preheat the oven to 190 degrees celsius. Slice the onion into rings and cut the bacon into 1cm lengths. Heat the butter in an ovenproof frypan and add the onion. Fry to soften and add the bacon. Cook until golden.
Cut the potatoes in 1/2cm slices (I used the food processor). Grate the cheddar. Layer the potatoes with the onion and bacon in the frypan and season. Pour over the milk and top with the cheddar. Bake in the oven for 40 minutes or until golden on top.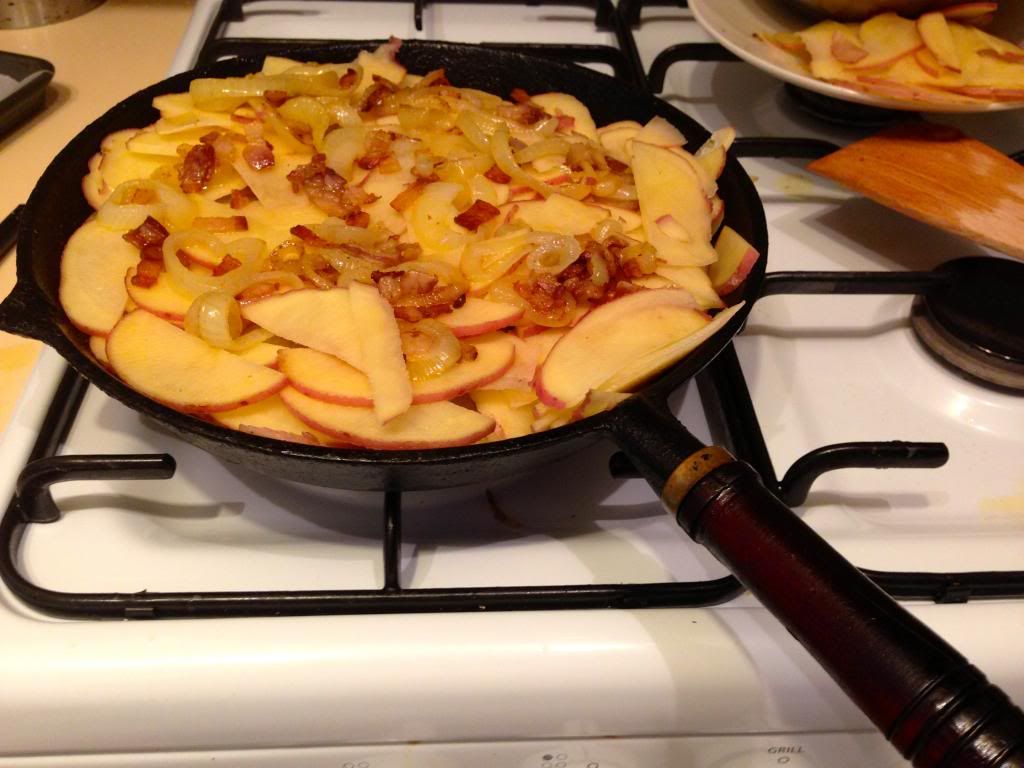 Meanwhile, heat the barbecue for 10 minutes. Add the lamb, scored side down and grill for 10 minutes (this cooks in your marinade). Turn over and cook for a further 10 minutes. Take off the barbecue and rest for another 10 minutes. As with humans, resting is critical (cept the humans aren't preparing to be served on a platter. Well, mostly. I don't need to know what you do with your weekends).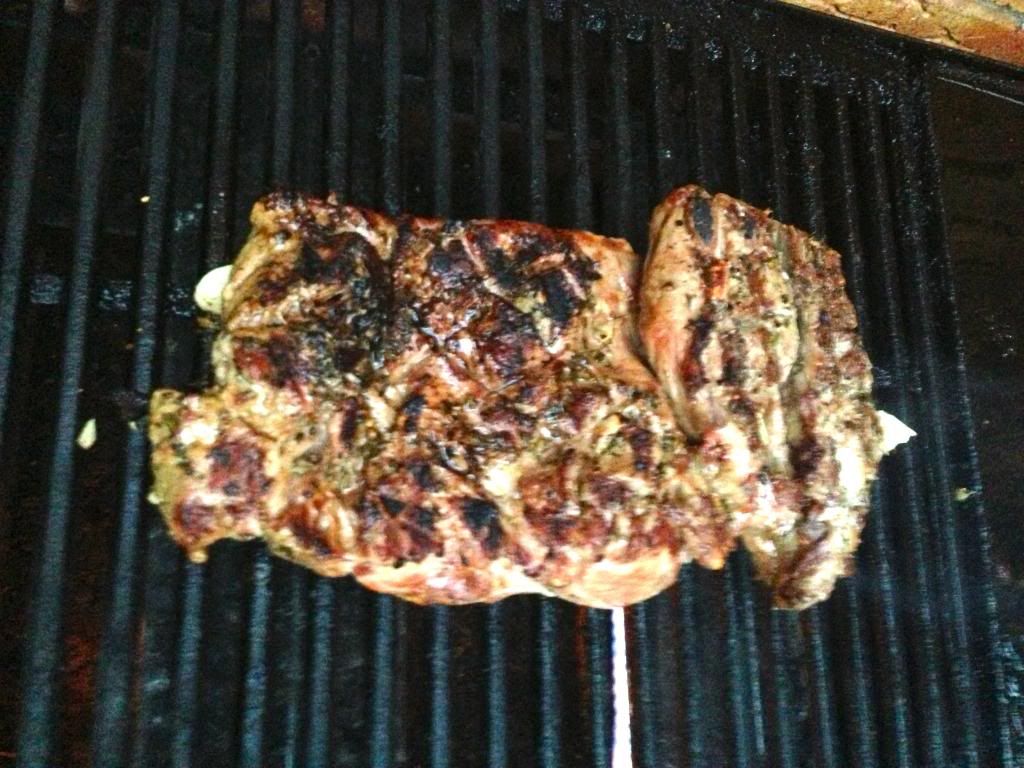 After you've removed the lamb from the barbecue, add the broccolini. Brush with olive oil and season. Squeeze over the lemon juice. Once charred, remove from the barbecue.
Slice the lamb on the diagonal and serve alongside the potatoes and broccolini.