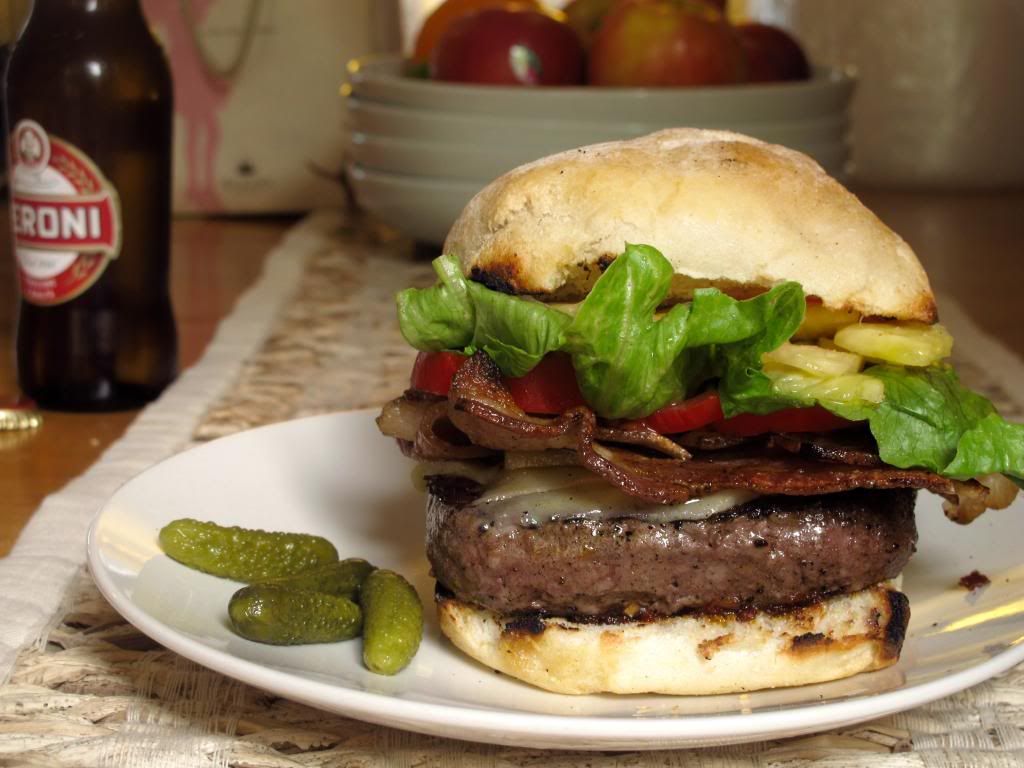 It's amazing how, when I think of Australian food, very little of it is centred around meat. I think of
lamingtons
,
pavlova
, peach melba or vanilla slice. Maybe even a prawn on the barbie. I realised this when I started my series of food for Australia Day and decided I needed to mix it up. A little concentration (Sam Neil would tell me that's the red meat kicking in) and the ideas started flowing. Aussie burgers were so obvious they were staring me in my pale, anemic face.
Matty, like the rest of Melbourne, has been on a burger bender for the last six months. Any special occasions, any night I can't be bothered cooking (they're few and far between) or pretty much any opportunity, he'd choose the next burger bar for dinner. You think we'd run out after 3 dinners or so but no. Right now, it seems everywhere you turn burger bars line the street.
His favourite so far is
Brother Burger
on Brunswick St and I'm pretty partial to Huxtaburger on Smith. My pick might be due to the burgers named after Cosby kids, but I figure that's as good a reason as any to dig a diner.
The good news is almost all of these new burger joints will happily dish up an Aussie burger. But interpretations can vary. Some have beetroot; others pineapple. Many have a runny fried egg. My favourite is pineapple - sweet and a little bit tart, it's a nice foil for the massive meatiness of the patty and (some say non-essential, I say they're crazy in the coconut) bacon. The pickled pineapple is a super quick way to liven up the burger that's a little out of the sour left field.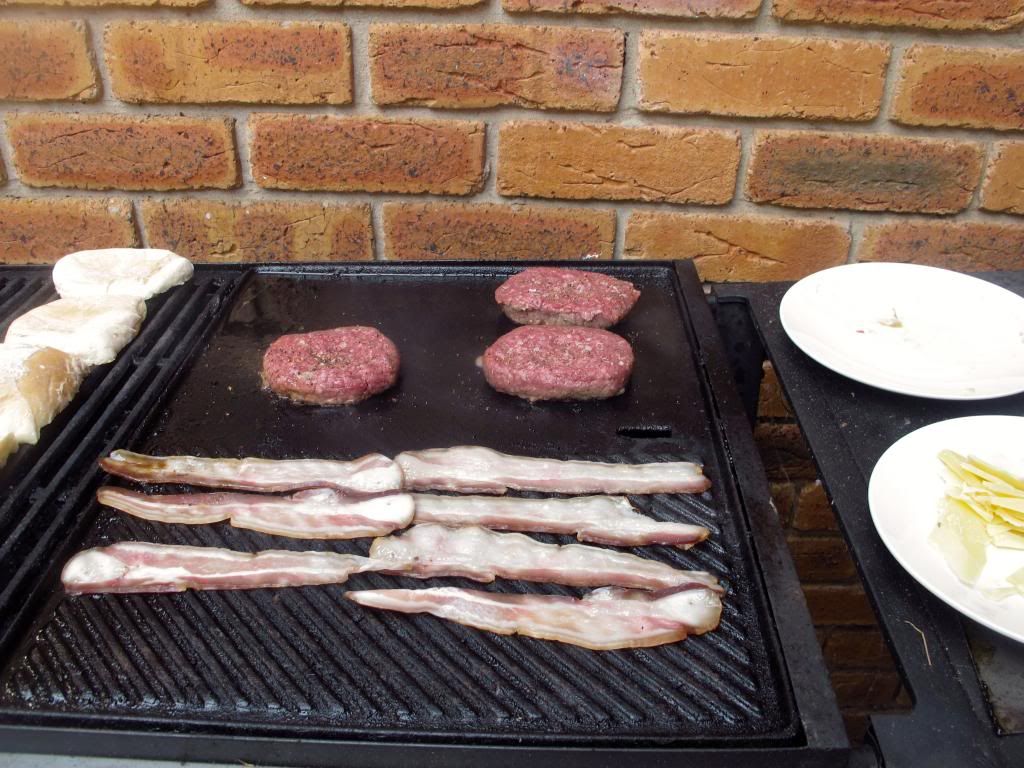 The meat in these burgers is down-to-ground, slap-in-the-face-with-a-cold-fish, straight-up amazing. They're from
Skinner and Hackett
on Rathdowne St in Carlton North. I could write for days about these guys. They've got at least two fridges full of seriously spectacular smallgoods without with the ridiculous mark-ups you see at some suburban delis. I picked up some pretty sweet jamon there that I plan on throwing in a salad for lunch tomorrow, though I'll be lucky if it lasts that long. But I digress.
The Heston burgers (as they're known) are mix of Hopkins River black angus and Robbins Island wagyu. These are not the kind of burger you
must
cook to well done. We had them pretty bloody and they were outstanding, though if you insist on cooking them longer, I have the sneaking suspicion they'll still be the best burger you've tried.
Ingredients
4 burger patties
8 slices streaky bacon
2 tomatoes
4 iceberg lettuce leaves
4 burger buns
4 tbsp
chilli jam
4 slices of comte cheese
Quick pineapple pickle
1/3 pineapple, peeled and cored
1/2 red onion
1 1/2 tbsp sugar
1/4 cup white vinegar
2 tbsp rice wine vinegar
To make the pineapple pickle, slice the pineapple in 3mm slices and place in a non-reactive bowl. Slice the red onion thinly and add to the pineapple. Add the remaining ingredients and stir to incorporate the sugar. Leave to pickle for 30 minutes.
To make the burgers, heat the barbecue for 15 minutes or until smokey. Season the burger patties and place on the barbecue. Lightly press to flatten slightly and make a small valley in the middle (the burger will rise in the centre). Cook for 4 minutes and flip, adding the cheese to the cooked side. Cook the burgers for another 3 minutes.
Meanwhile, add the bacon to the barbecue and cook till crispy both sides. Heat the rolls on the barbecue, but be careful not to burn.
Once the bacon and burgers are cooked and the rolls heated, remove from the barbecue. Rest the burgers for 5 minutes.
To assemble, spread each roll with one tablespoon of chilli jam. Place the burger and cheese on top, followed by two slices of bacon and 3 slices of tomato. Top with a neat lettuce leaf (don't fold it over - you're burger will be too tall
and
too healthy) and some of the pickled pineapple. Sandwich with the top of the roll and enjoy.