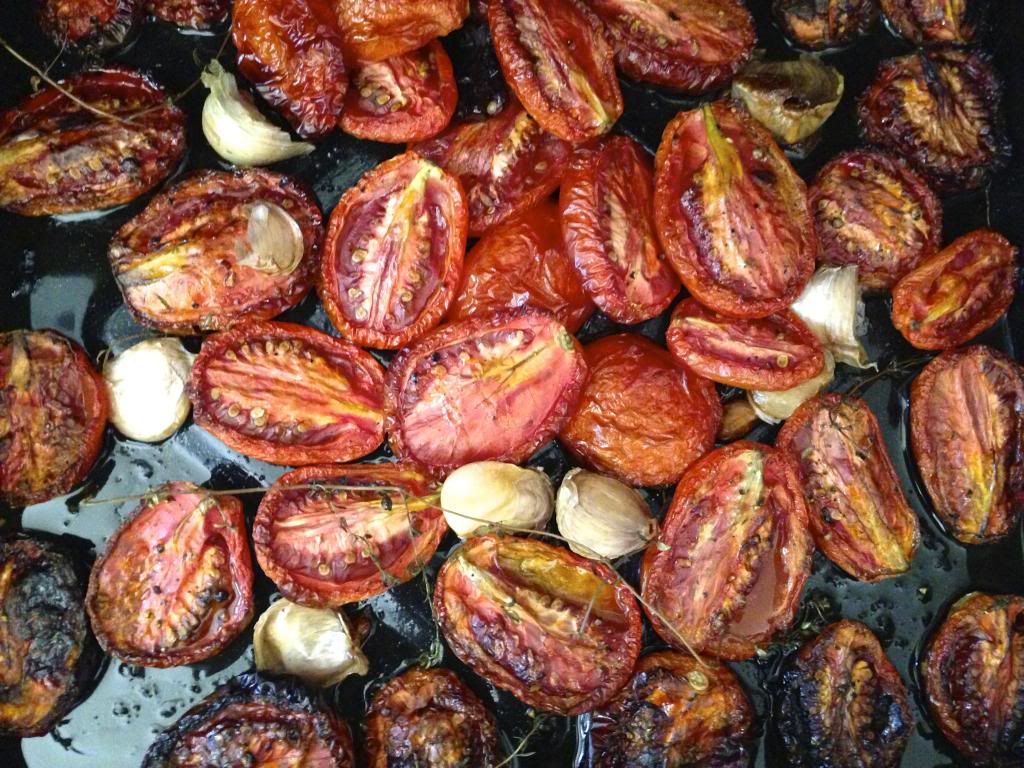 My friend Jacquie recently made her first batch of pasta - it looked amazing. She let it dry on her clothes rack with the rest of her washing. Around the same time, Nadia mentioned she had noticed I hadn't included any pasta recipes on the blog yet. I felt the universe was trying to tell me something, the gods were speaking to me, I felt it in my waters: it was time to drag out the pasta machine.
Nadia reminded me of one dish I'd made many moons ago. I picked up a box of tomatoes from the market and roasted the heck out of them. They looked so amazing when they were done, it felt sinful to add anything else. So I didn't. No regret here. This is rich, pure, unadulterated tomato - you don't need much else when they're this good.
I got a little carried away again and made a video. I joked I could use That's Amore as my theme music - but Matty had a brainwave and suggested Shaddapa Ya Face instead. I felt nervous it might be a bit offensive, but was reminded by my smartest friends this song is more silly than hurtful. Plus, when I tested it out I giggled so much I had to use it. Yep, I'm that person who laughs at their own gags. I kill me. You'll also notice a little callback to Jacquie's drying technique here.
Pappardelle with slow roasted tomato sauce
from
Emma Bennetto
on
Vimeo
.
If there's one recipe I really think you should try, it's this one. It's not hard at all and the results are pretty amazing. If you don't have a pasta machine
go buy one
pick up some really good fresh pasta. No food mill? Put it through the blender, but do try to sieve out the seeds. Top with your favourite hard cheese and you'll be dreaming of your next trip to Italy. I know I am.
Ingredients
Pasta
260g 00 flour
2 eggs
1 egg yolk
pinch salt
Roasted tomato sauce
20 roma tomatoes
8 cloves garlic
5 sprigs thyme
salt and pepper
olive oil
Preheat the oven to 160 degrees celsius. Slice the tomatoes in half. Sprikle with salt and pepper. Pour over a healthy slosh of oil and add the thyme and garlic (skins on). Roast in the oven for four hours.
To make the pasta, knead together all ingredients until the dough comes together. Wrap in plastic and rest for at least an hour.
Take the pasta out and cut in half. Dusting with flour regularly, roll the pasta through the lowest setting on your pasta machine. Roll it through about a dozen times, folding in half each time. Once the pasta is smooth and shiny, start lowering the settings. Keep dusting with flour to ensure it does not stick to the rollers (there's nothing worse in this world). Roll to the thinnest setting (mine is 9). You may need to cut in half again to make it easier to work with.
Fold the pasta in half, and half again. Slice into 1.5 inch width lengths and unfold immediately. Hang up while you repeat the rolling, folding and cutting for the remaining piece of pasta.
Set a large pot of water to boil and add some sea salt. While the water is heating, take a bowl and a food mill. Add the tomatoes, garlic and oil and pass through the mill. This is your sauce.
Add the pasta to the water and boil for two minutes. Drain in a colander, reserving 1/4 cup of the pasta water for your sauce. Mix the sauce through the pasta. Serve in a large bowl with grana padano and basil.