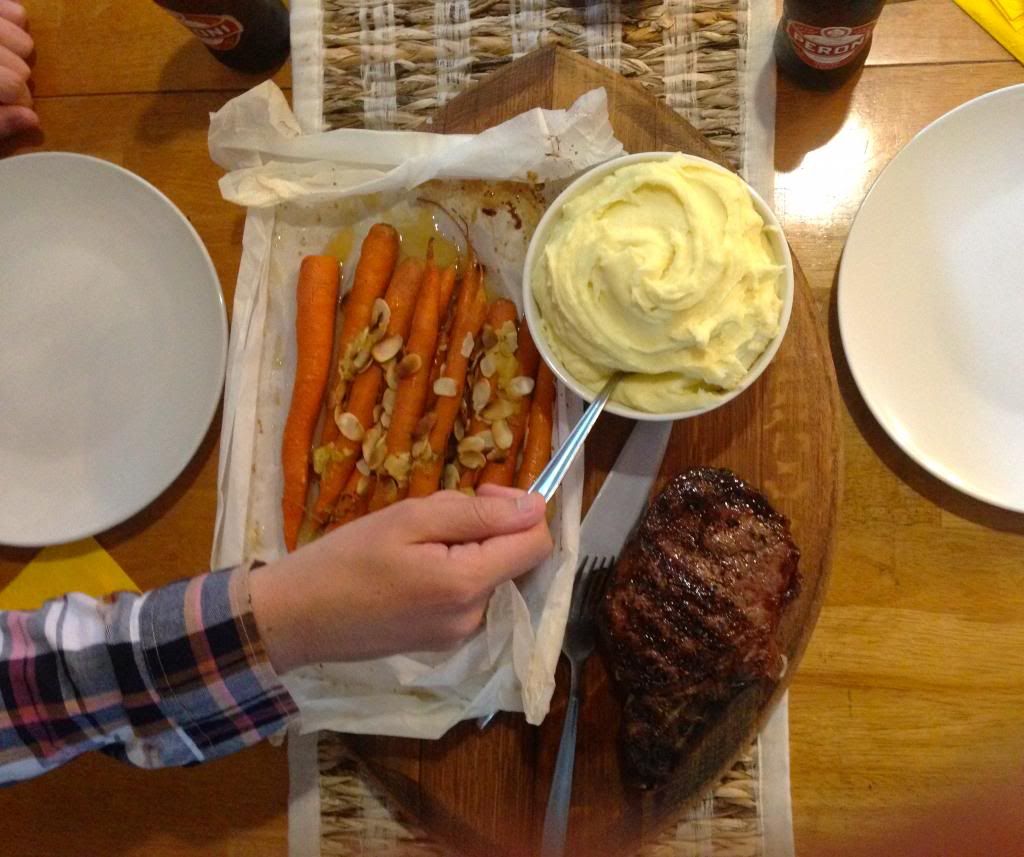 I remember the days of yore when I ate my steaks well done. Not a trace of the faintest pink in sight. My dad, a sheep and cattle farmer, likes his that way and I never second-guessed it. I doubt I even
knew
there was another way to have your t-bone (the steak of choice in our house).
My tastes have changed in that department. I now prefer them fairly bleu, rare at a pinch. But I'm not fussy: if I'm in a great restaurant and the chef recommends it medium, then that's how I'll take it. If you come to a barbecue at my house and order yours well done, that's how you'll get it. It's not to my tastes, but then your not tasting with my buds, or chewing with my teeth now are you? I'm a "horses for courses" kinda gal. I can appreciate some of us have an aversion to the sight of such an "underdone beast" and I'd rather you
actually
enjoy it rather maintaining the appearance of it.
A fantastic cut of meat such as this deserves some pretty amazing sides. This has got to be some of the best mash going 'round. It's silky and smooth from the food mill, and creamy from the excessive butter. I feel I'm singlehandedly saving Melbourne's butter industry, one recipe at a time. It needs it: their customers have such a short life expectancy. The ol' cradle to grave theory is pretty short-lived in that industry.
The carrots are inspired by a fabulous cookbook I received from Matt's mum this Christmas. Katie Quinn Davies book
What Katie Ate
has been sitting by my bedside since Boxing Day. Her photography is brilliant and the recipes are simple but creative. The dish in Katie's book is made with orange juice, white wine and hazlenuts. My cupboard was bare (insert a guffaw from Matty here), so I threw in some toasted almonds, white wine vinegar and mustard. They were a real treat.
Now, I won't tell you how to cook your steak. I won't even judge if you use less butter in your mash. But I insist you must buy a decent rib eye for this. I've raved enough about Skinner and Hackett for you to know they're a reliable source of quality meat in Melbourne. A great rib eye from any good butcher is not cheap. But then we probably shouldn't be eating buttery mash and bleu steak every night of the week either...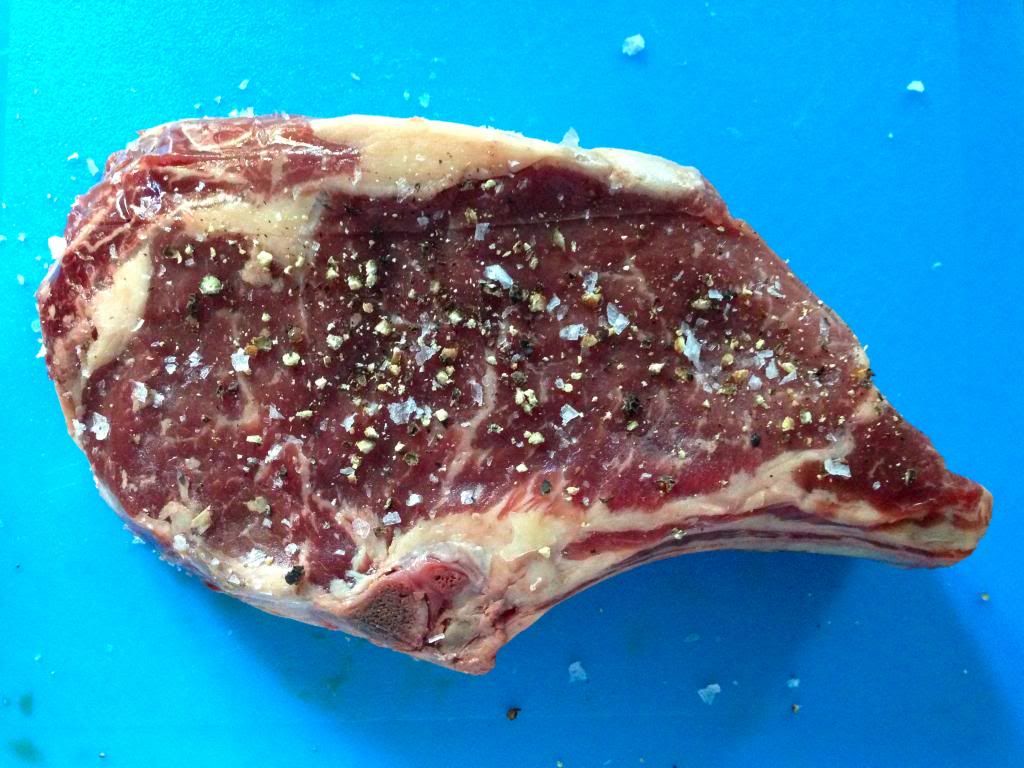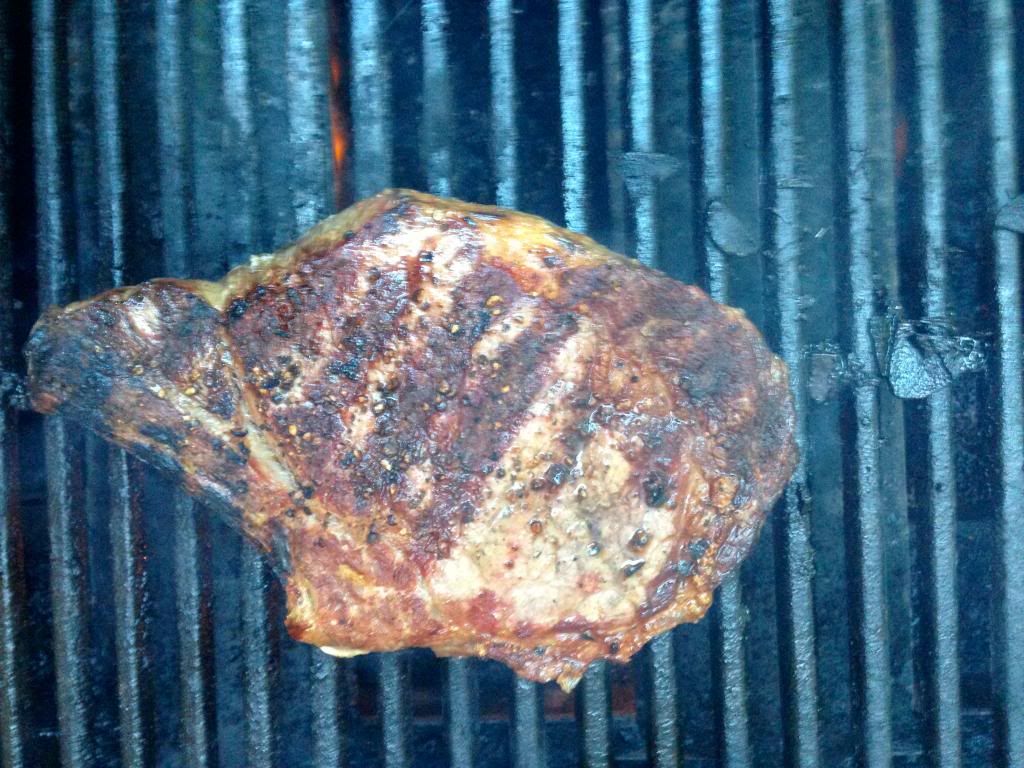 Ingredients
1 rib eye at room temperature, enough for two (ask your butcher for an appropriate size)
mustard, to serve
Creamy mash
5 dutch cream potatoes
150g butter
1 tbsp milk
salt and pepper
Carrots en papillote
1 bunch dutch carrots
3 sprigs thyme
1 cup chicken stock
1 tbsp olive oil
2 tbsp white wine vinegar
1 tbsp honey
1/4 toasted almond flakes
1 tbsp dijon mustard
salt and pepper
To make carrots, preheat the oven to 180 degrees celsius. Place two pieces of baking paper on a tray. Place washed and trimmed carrots and remaining ingredients on top. Place a third piece of baking paper over the carrots and fold each side carefully in, running your nail along for a sharp edge. Bake in the oven for 30 minutes or until carrots are cooked.
To make the mash, wash and peel the potatoes. Put a steamer of water on to boil and cut up the potatoes into similar sized chunks. Cook for 15 minutes or until a knife inserts easily in a potato. Remove from heat and run through a food mill with one tablespoon of butter. Return to the heat and add the remaining butter, stirring to combine. Add the milk and seasoning and remove from heat.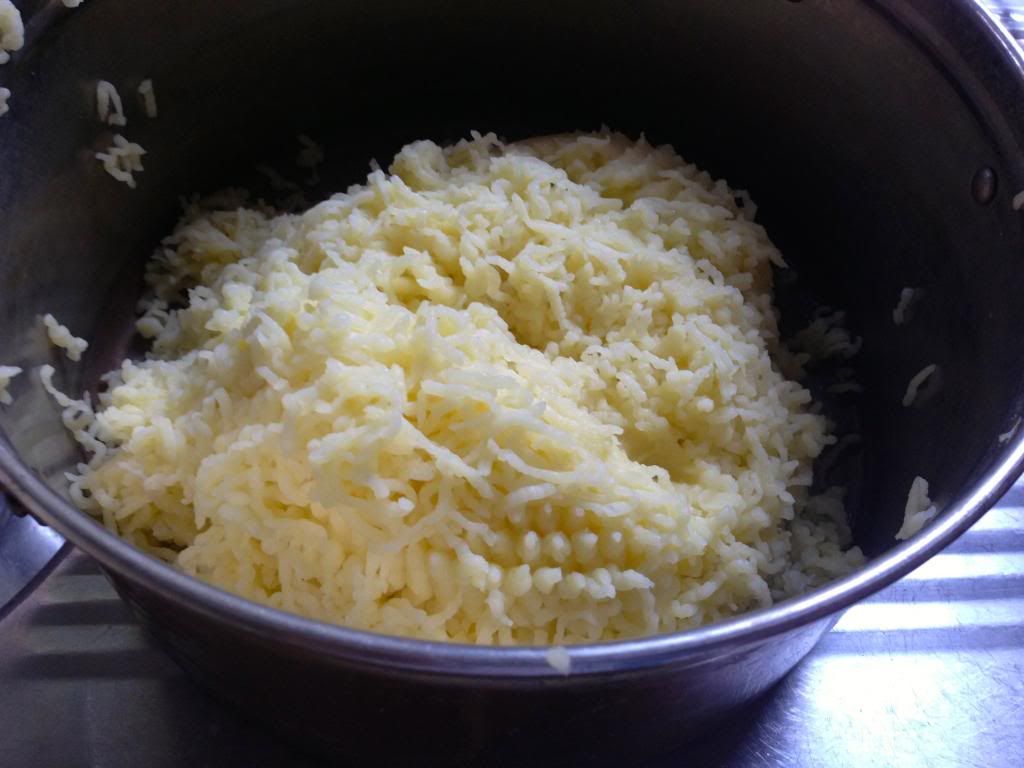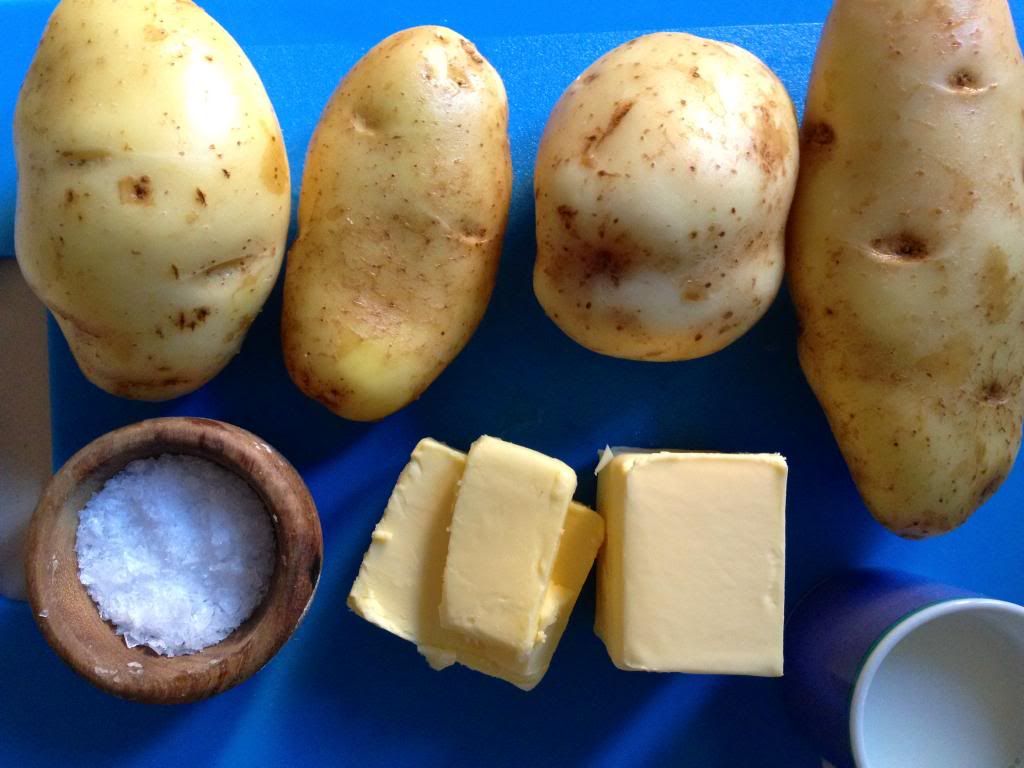 To cook the steak, preheat the barbecue for 10 minutes. Season the steak and rub with oil. Add the steak to the barbecue and cook for 6-9 minutes on each side. Rest for a further 5 minutes and enjoy with your mash, carrots and some mustard.