My priorities when travelling are a little skewed. I book flights, then restaurants and months later, panic and book some accommodation. I have a comprehensive list of must-visit restaurants and normally miss half due to crippling indecision. There's one I never miss when in Paris:
Les Ambassadeurs
at
Hotel de Crillon
.
The first time I visited, it was my very first Michelin-starred restaurant. Not that that means much for the average Australian: the guide hasn't rated anything here yet and, given the tyranny of distance, is unlikely to do so any time soon. Regardless, this was unlike anything I'd ever experienced before. An innocent three course set lunch descended into approximately 12 courses of creative, delicious, playful food. Even a rule-breaking dish of fish with rice and cheese was comforting and satisfying, but didn't feel out of place in the flow of courses. I suspect the platter of petite fours was intended for a table of four diners: I polished them off with little trouble (close your eyes and picture a young woman ramming a macaron into an already-full mouth and you'll be pretty close to the live-action picture). Like I said, amazing.
I was so excited to bring Matty along. Some things had changed: the dining room had moved from the ornate marble and gold leaf room to a courtyard with large white umbrellas and astro-turf. I'm not doing it justice, so I won't even bother. The menus arrived (mine without prices, so we made the awkward swap given this was my shout). My entree of carpaccio was one of the prettiest meat-centric dishes I have eaten in a long time: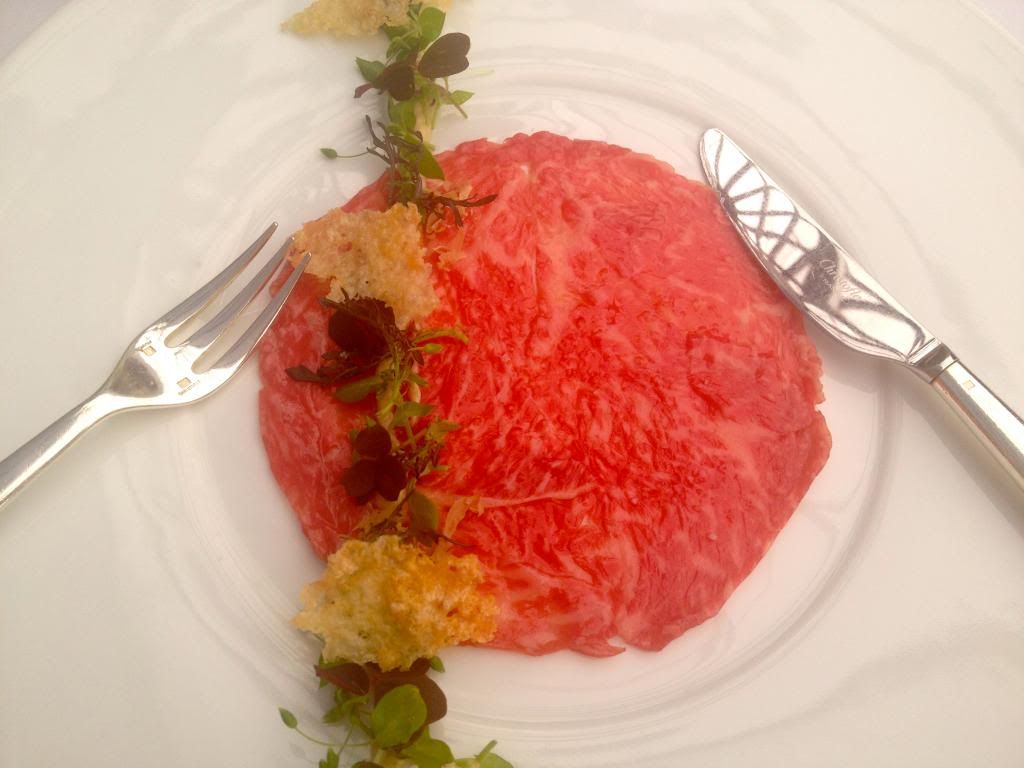 We made our way through mains (foie gras and langoustines) and waited in suspense for desserts. A little amuse of iced lollies arrived and were welcome on what was an exceedingly warm day. Desserts were placed in front of us and Matty understood my love for the place. Cherry clafoutis (ordered in honour of Adrian, Matt's dad who whips up a mean clafoutis) and peach melba (in honour of Dame Nellie, of whom we know zippo). While they were delicious in isolation, it was really the spectacular presentation that sealed the deal. My peach melba arrived with a cloud of pink confection fluff sitting atop a glass. A thin custard was poured through to reveal the peach and raspberry delight below. Oh man. I nearly peed my pants, frowned upon in an establishment such as this. Matt's clafoutis arrived as a two-parter: a small dish closest resembling a true clafoutis, and a small glass filled with a cherry flavoured concoction. Both were spectacular (I played the old "Look over there!" game while pinching a spoonful).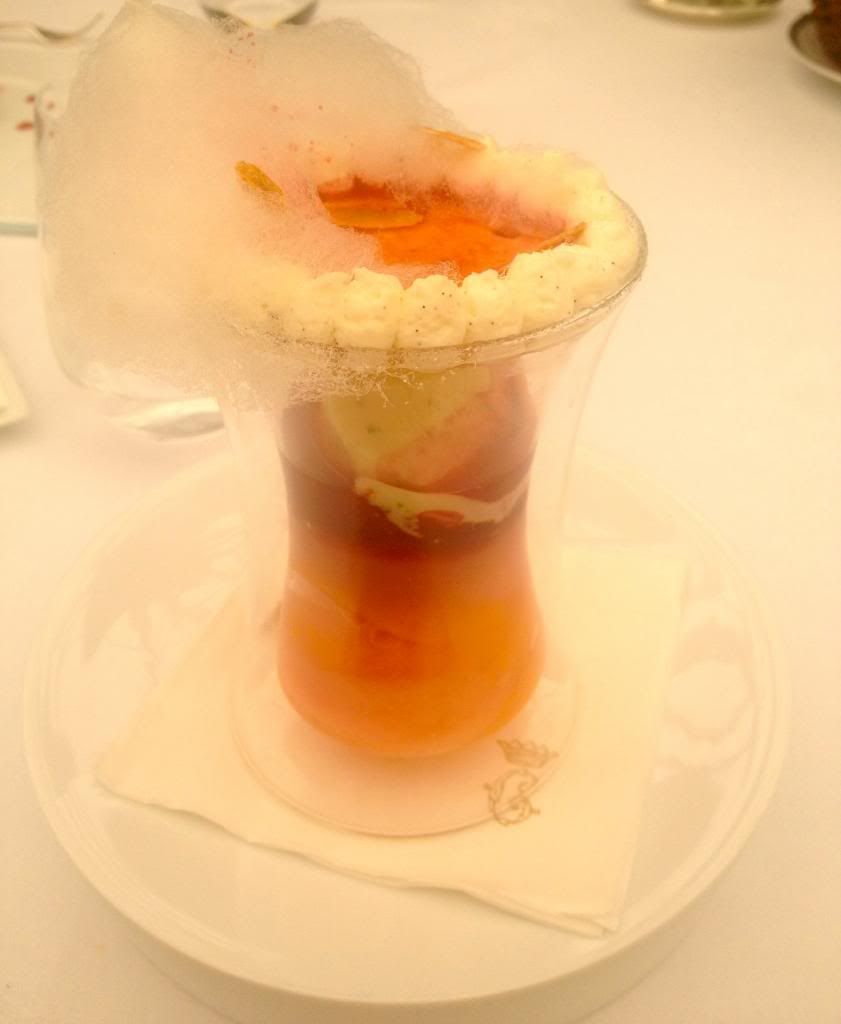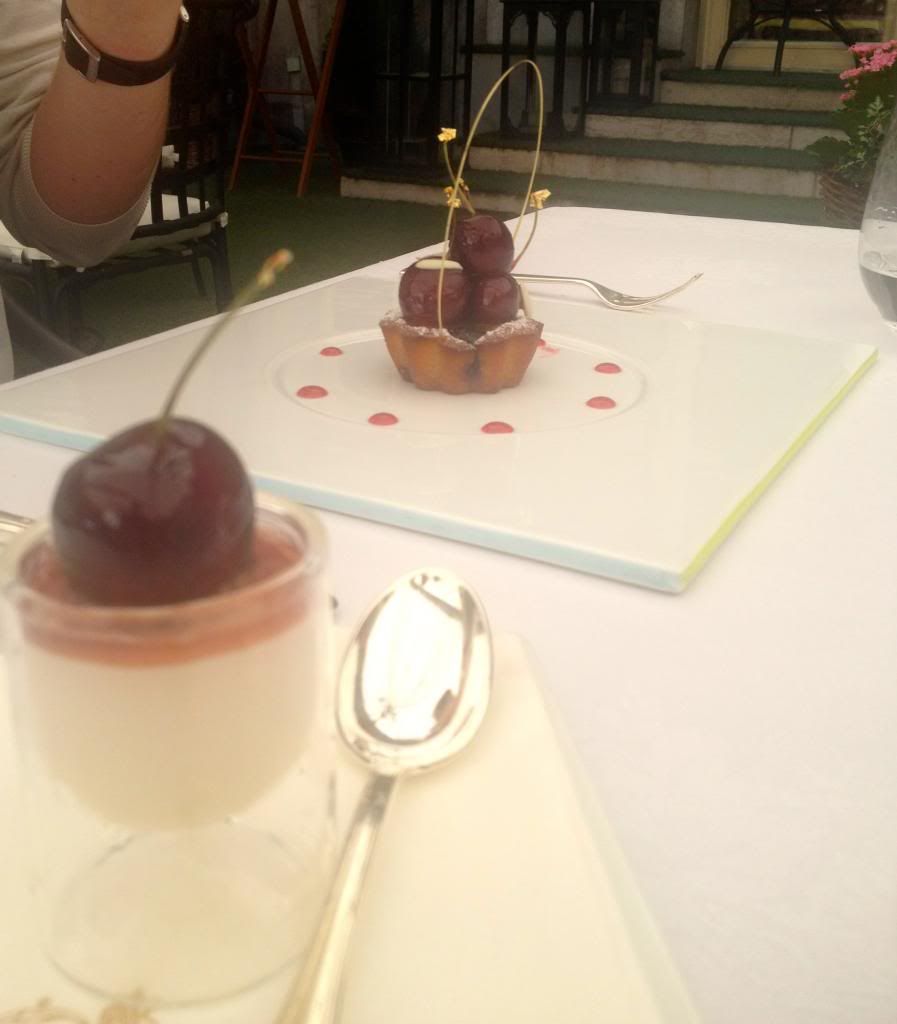 Once we were finished, it was time to make our way back out to see the sights of Paris. Distracted by the amazing meal (and, if we must admit it, half sozzled from the beautiful wine) we began to walk outside. We thought the security at the entrance seemed a little excessive, but on stepping through the front doors, we understood. Throngs of papparazzi began snapping photos of us. The crowd erupted into laughter, realising we were not the intended targets. We giggled and scurried into the crowd. Curious to see what the fuss was all about, we stood around in the blazing sun waiting for the culprit to arrive. Two giant cars were parked adjacent the entrance so we knew it was big. Around 15 minutes of waiting and I was a red, perspiring mess. I began looking around for a bus to catch back to our apartment. As luck would have it, as soon as my back turned, Madonna walked out of the hotel and jumped straight into a waiting four-wheel drive. We laughed for hours about it: first we're mistaken for her, and then we miss her by seconds. I don't suppose we'd be much richer for having seen her. Maybe if she'd worn her conical bra and sang Erotica, but the chances of that were always going to be slim.