Italian hospitality is something else. I thought I was a relatively good host. I make sure my guests are fed and watered, and they all seem to leave happy. In Italy, to simply feed a guest and provide them with a drink is selling yourself short: they should leave bursting at the seems, lethargic and with a serious case of the meat sweats (it's both as awful and wonderful as it sounds).
In Villaverla, where Matt's uncle's family lives, we enjoyed more than one home-cooked meal. Calling them meals feels a little misleading. Feasts is far more appropriate. All out gorge-fests is probably closer still. Even the ruse of joining the family for a little wine and cheese would descend into a never-ending trail of food - a meal of gargantuan proportions. You'd finish several times, only to be told you've hardly eaten a thing. Italians do guilt eating like no other country.
Matt has suggested that, at this stage, I should let you all know his uncle's name isn't officially Pebe. It's really Pietro, but his older brother Andrew had a hard time pronouncing Peter when he was a child, so Pebe it was. His wife's name Genevieve became Geegee and best of all, their grandfather was Fafa. I still giggle every time Matt speaks of "Fafa".
Our first meal of this kind was with Pebe's cousin Nereo. Making our way up the driveway, Pebe told us to stay in the car: we'd just say hello from the window. We felt rude declining his offer of a small drink, so unbuckled our seatbelts. Pebe started to panic. He knew the reality of a "small drink", but the horse had bolted. We made our way into the kitchen while Nereo fixed our glasses of wine.
Of course, you can't have wine without a little cheese. He pulled out a giant wedge of Asiago - you could, after all, see the Asiago mountains from his window. Bread followed, and a giant salami was produced. This wasn't too bad. Pickled asparagus, pickled onions and other vegetables appeared. Pebe started to gesticulate wildly at this point. Nereo sat still for a good five minutes.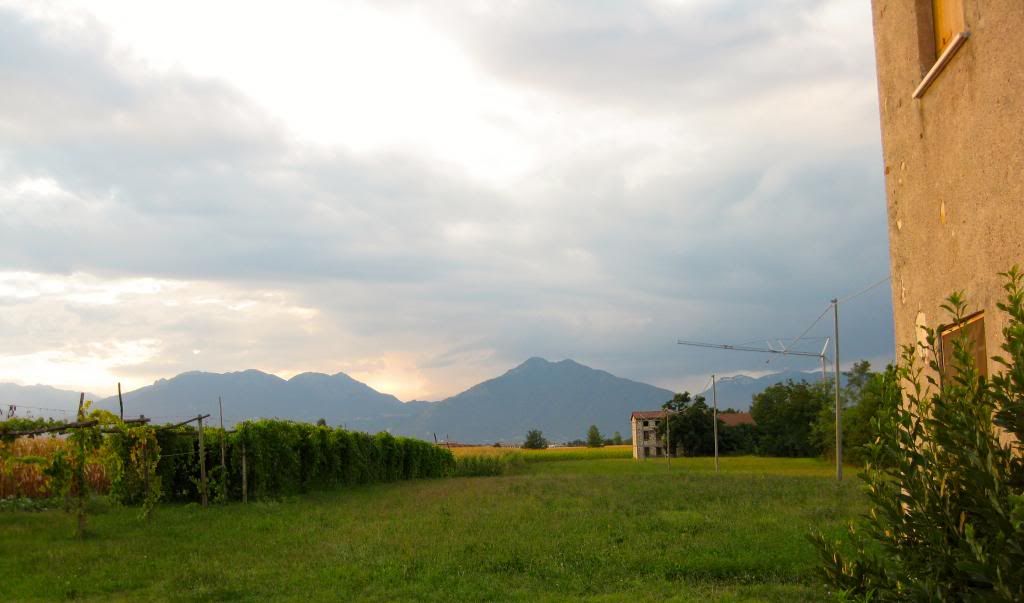 Four young Australians and a couple of retired Italian men made light work of the wine. Nereo could feel the mood lighten. He stood up again and Pebe started on him again in Italian. Three bottles of alcohol were dropped in the middle of the table. Two I recognised, grappa and Fernet Branca but the third was new to me: Prugna. Coffees were poured and a dash of Prugna poured in each. It was rich and strong. Pebe took his espresso cup and examined it closely. "My cup's a little dirty," he said. We all looked at each other. He poured a slosh of Prugna in. "Better give it a quick wash out". He downed the Prugna. "Matt, your cup looks dirty too". And so it began: the theme for the remainder of our time in Villaverla was set.
The remainder of the night was a bit of a blur. We weren't drunk, just a hazy kind of happy. I'm not lying when I tell you I was taken on a horse and cart ride that night. When we weren't being entertained by farm animals, we were trying to decipher the small amount of Italian we did know. It was not a fruitful exercise, but we had fun trying. Matt continued claiming his cup was unclean well into the night.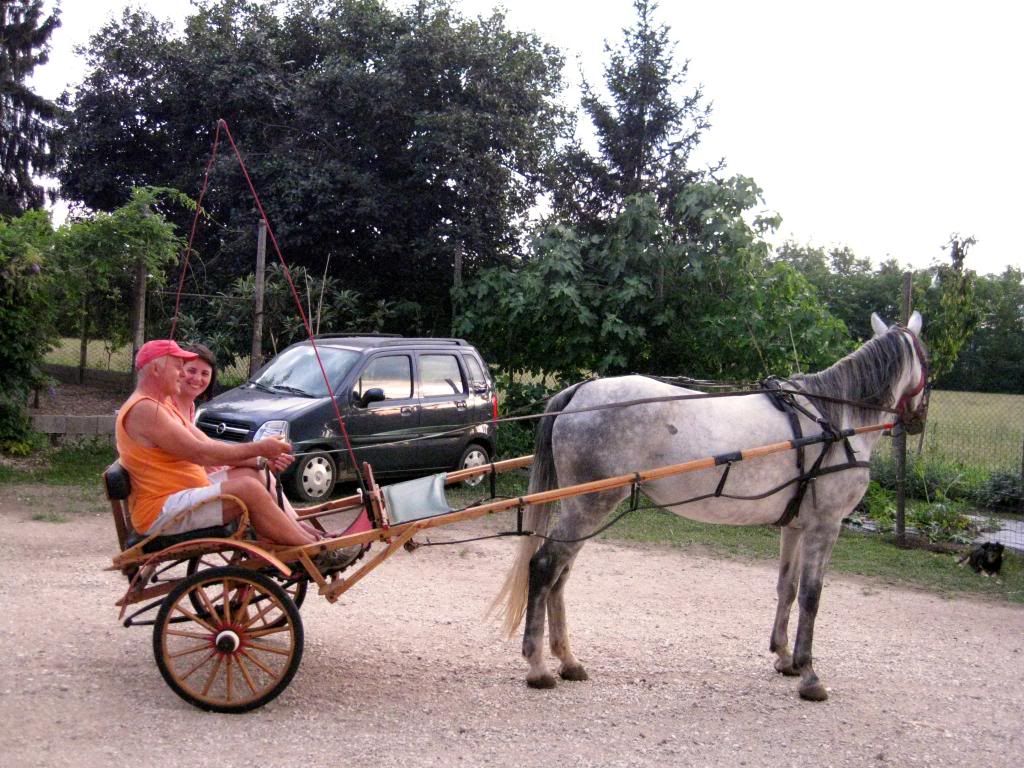 We left hours later: Nereo had welcomed so many other visitors during our meal, we figured we should leave him be. It wasn't until we showed up to our next visit to another friend's house that we realised how far word had spread of our love of Prugna. As soon as we sat down, a bottle was placed in front of us. Our eyes lit up. They started laughing. In Vicenza (where Prugna is from) it's considered an old person's drink, like brandy here. We couldn't get enough of the stuff.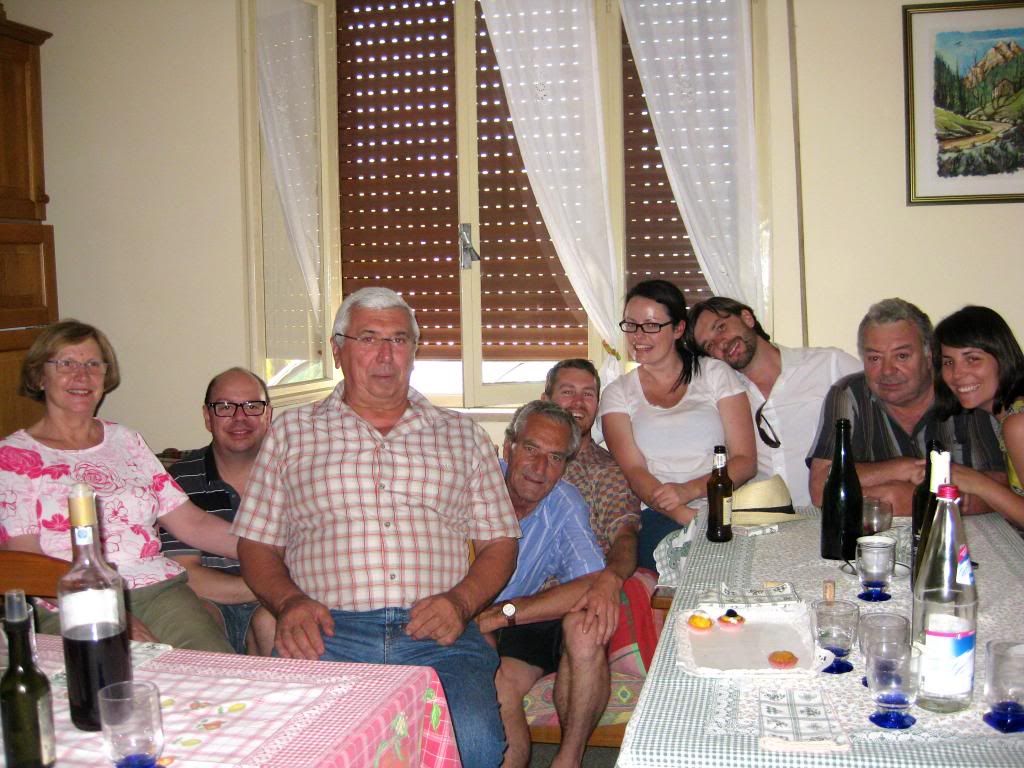 Fast forward 3 months, and we're back at home in Melbourne. I hunted high and low for Prugna until, one Saturday afternoon wandering down the aisles of Mediterranean Wholesalers in Brunswick I noticed the familiar yellow label. Jackpot! I snaffled it up and proudly took it home to Matty. I'm sure Nereo would be proud to know that, thanks to his generous hospitality, there is now a little pocket of Prugna lovers in the northern suburbs of Melbourne.