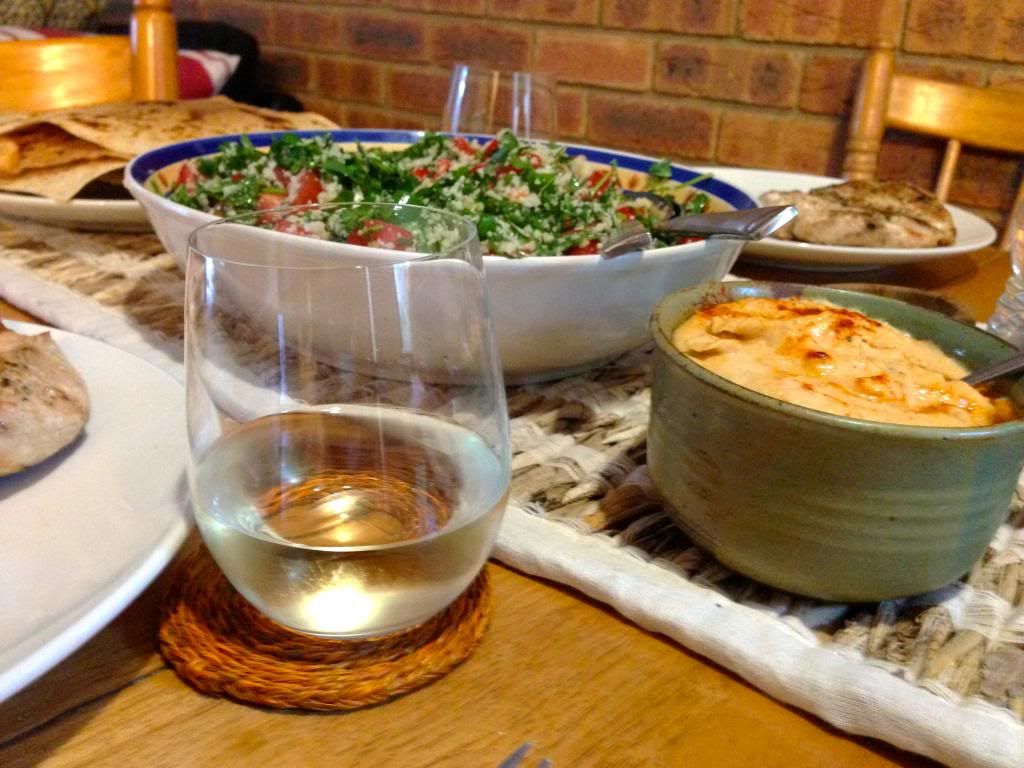 I feel like a broken record. After a weekend of indulgence, I need clean food. I'm trying my hardest to keep it simple over the weekend, but I normally take simple to mean butter, flour and eggs with some kind of fruity/chocolate/sugary flavour profile. I don't do healthy well.
I'm fairly certain this is not most people's recipe for tabouleh. To be honest, there are as many variations on the ingredients as there are on how it is spelt. No matter the combination of letters, there's a red squiggly line underneath. But I love how, regardless of the vegetable combination, as long as the mint, coriander and parsley are present all is good in tabouleh land.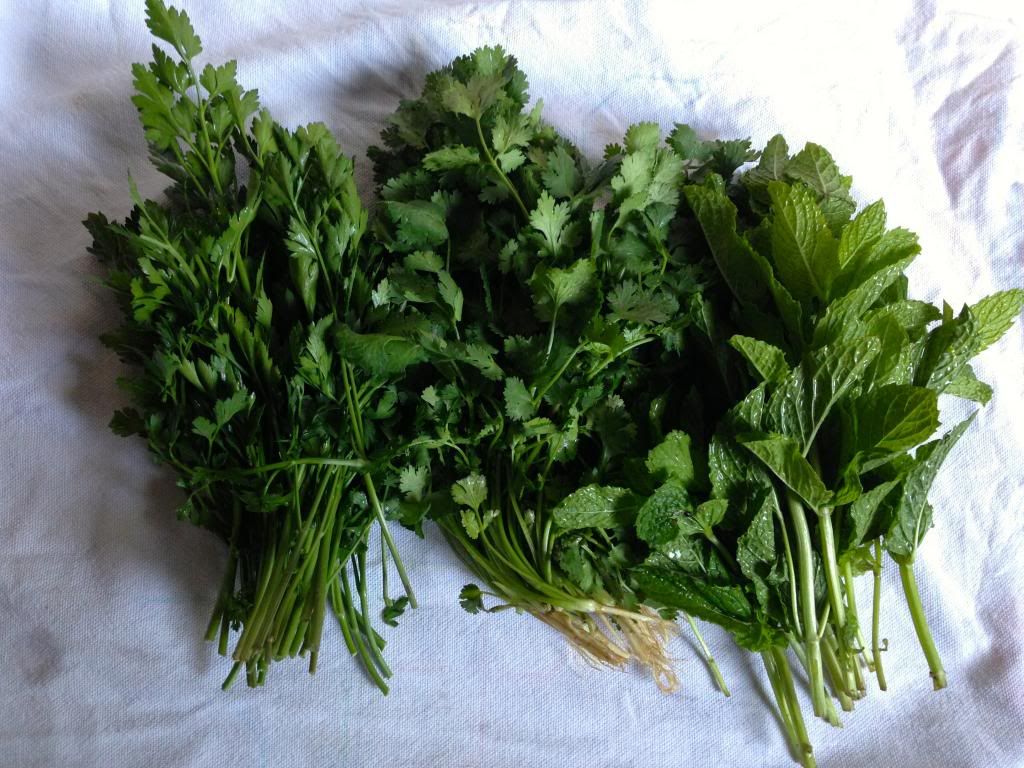 The white bean dip came about as a replacement for our normal routine of potato/pasta/rice. We needed some kind of "filler", and a can of butterbeans in the back of the pantry was crying out to be used. Enough lemon and this does goes from filler to killer in under 30 seconds (or however long it takes to churn up). Bean dip needs a dipper and flatbread, painted with oil and sprinkled with salt and paprika, crisps up quite nicely under the grill.
This is one meal where the protein is not the star. Grilled chicken is tasty enough, especially when cooked on the barbecue and nicely seasoned, but when competing with this herby, fresh salad and lemony, luscious dip, it's no contest. Salad wins by TKO (sorry chicken).
Ingredients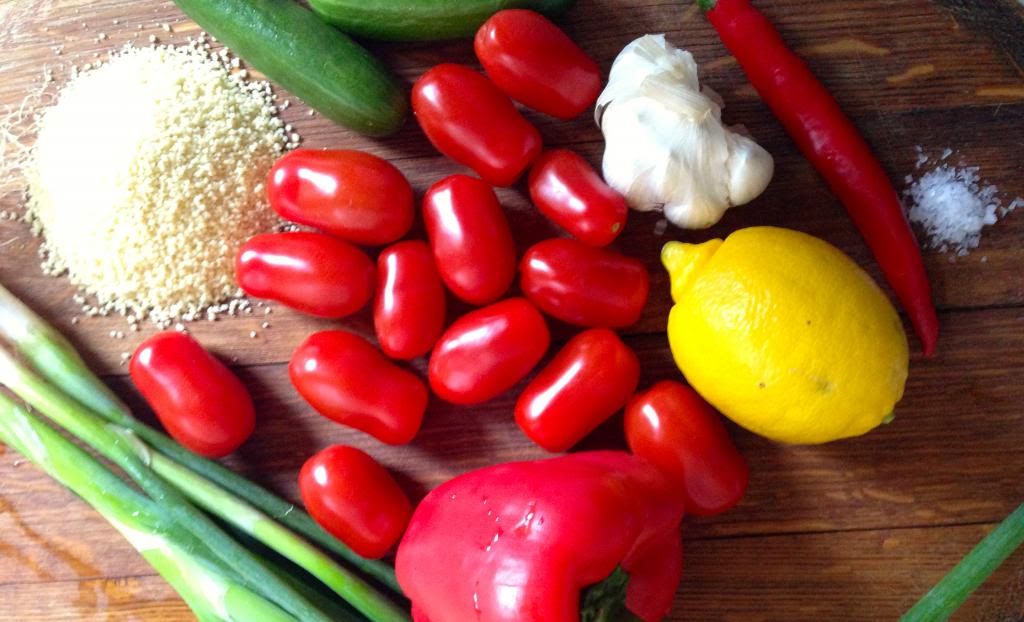 1 bunch parsley
1 bunch coriander
1/2 bunch mint
2 baby cucumbers
1 small red capsicum
10 mini roma tomatoes
3 spring onions
2 garlic cloves
1 cup cous cous
1 long red chilli
juice of 2 lemons
1/4 cup olive oil
1 can butter beans, rinsed and drained
1 tbsp olive oil
1 tbsp tahini
1 tsp paprika
1/2 tsp salt
1 clove garlic
juice of 1 lemon
2 chicken breasts
olive oil
salt and pepper
4 flatbreads
olive oil
paprika
salt
To make the tabouleh, wash the herbs and dry in a salad spinner (or do as I do, and gather in a teatowel and whip about your head to get rid of all moisture. Preferably outdoors and away from the fine china). Halve the cucumber lengthwise and deseed. Chop all the vegetables a similar size, and chop the garlic finely. Chop the herbs finely. Place in a salad bowl. Cover the cous cous with 1 1/2 cups of hot water and leave to stand for 5 minutes. Add to salad bowl and dress with lemon juice, olive oil and salt and pepper.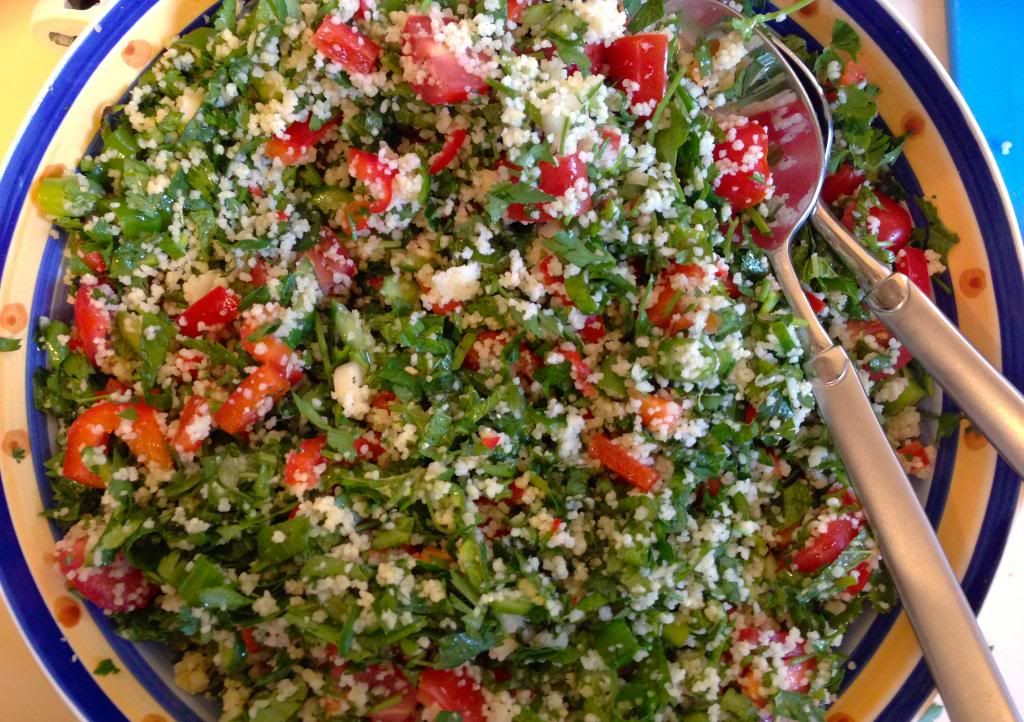 To make bean dip, add all ingredients to the bowl of a food processor and mix until smooth. Top with a small sprinkle of paprika and olive oil.
To make crispbreads, brush the bread with olive oil, paprika and salt. Grill for a couple of minutes until crisp.
Brush chicken breast with olive oil and season. Grill on a hot barbecue for 12 minutes each side and rest for 5 minutes before serving alongside the tabouleh, dip and crispbread.