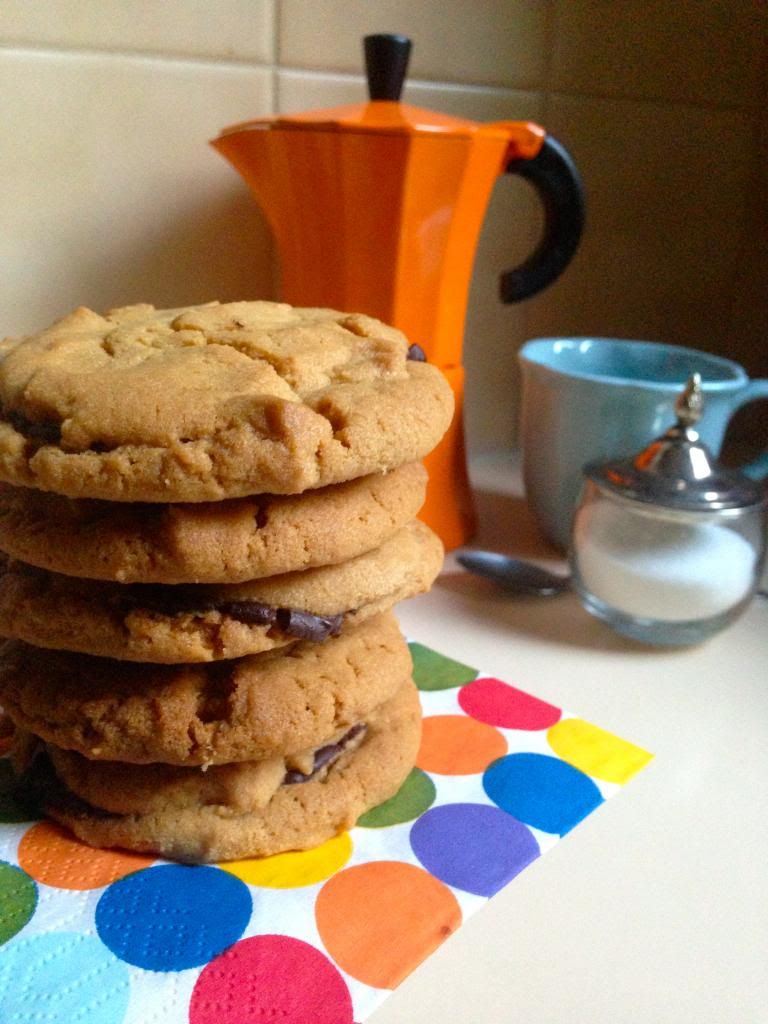 These. These are classics. I know I'll be preaching to the choir when I tell you these are some of the best biscuits going 'round. And if you haven't yet discovered the joy that is peanut butter and chocolate chips combined, you're welcome/I'm sorry.
Matt and I were in Ballarat on the weekend with Mum. He was meeting the Burke side of the family for the first time. We managed to go a whole meal without an someone poking someone else in the boob (a genetic trait for all Mum's side of the family, one I seem to have inherited in spades). We enjoyed Nanna's ginger fluff sponge (by way of Aunty Margaret), cheese puffs, sandwiches, Mum's sausage rolls and a date loaf that wouldn't quit. Amazing.
Over a couple of wines, we got onto the topic of Lent. When Mum's family was growing up, they observed Lent quite strictly and would refrain from too many treats during those forty days in the lead up to Easter. Aunty Moireen recalled baking biscuits during Lent, making them double the normal size because Nanna had declared they could only have one each. I think I may know where my cheeky side comes from.
I guess you could call these Moireen-sized biscuits. They're ginormous. I also decided chips were totally passe and popped a half a square of chocolate in the mix. Not decadent at all. Totally appropriate for a Burke-themed Lent.
Ingredients
1/2 cup butter
1/2 cup peanut butter
3/4 cup caster sugar
1/4 cup brown sugar
1 egg
1 1/4 cup plain flour
1/2 tsp baking powder
1/2 tsp baking soda
100g dark chocolate
Preheat your oven to 190 degrees celsius. Line a baking sheet with paper.
Cream the butter and sugars together until light and creamy. Add peanut butter and mix briefly. Add the egg and mix to combine. Sift together the dry ingredients and add to the butter mixture. Mix until all the flour is incorporated.
Place dessertspoons of the mix onto the baking sheet. Top each with half a square of chocolate (I used Lindt) and top with another spoon of mixture. Bake in the oven for 15 minutes or until golden. Try one while they're still warm and melty.